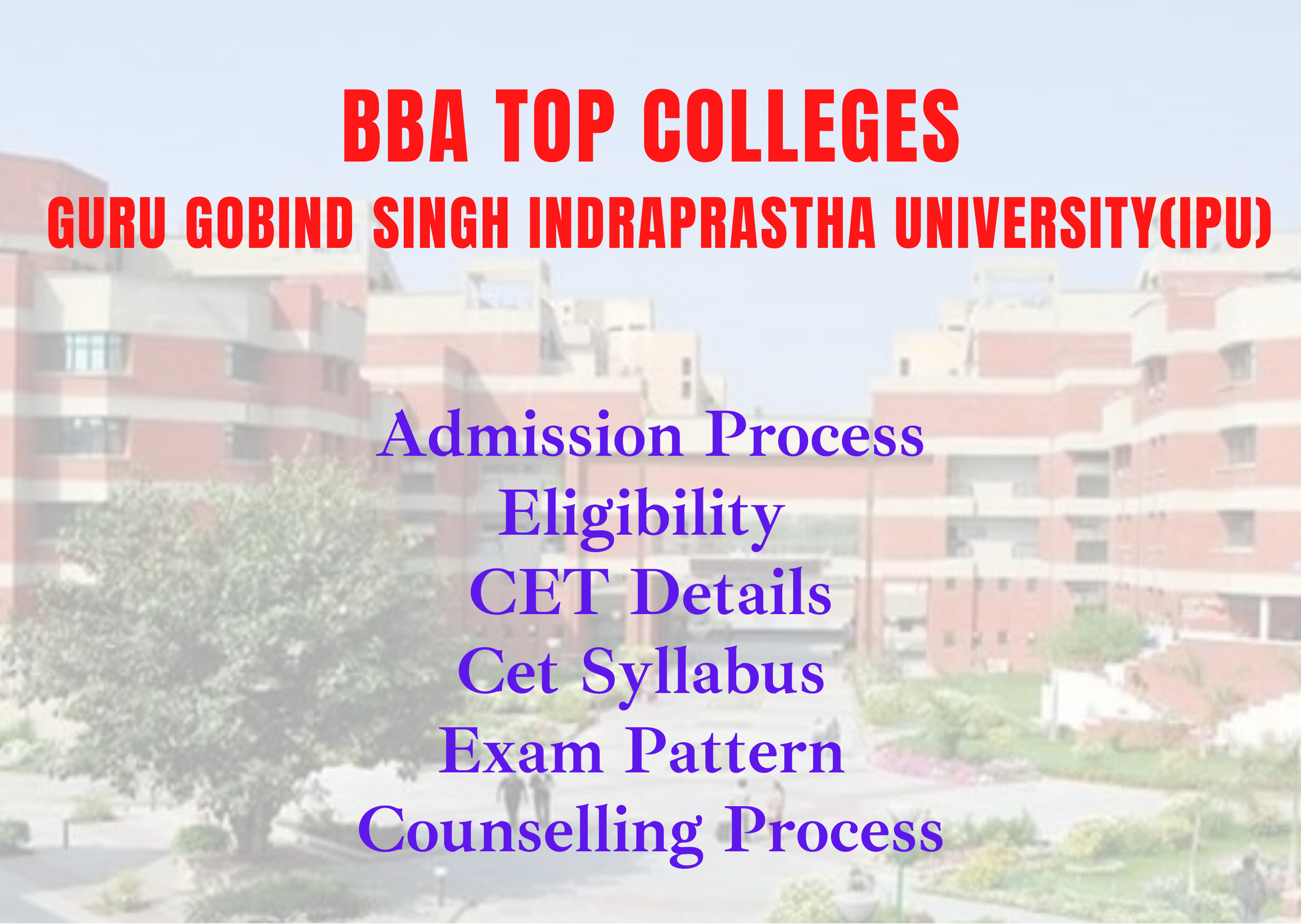 BBA & Allied Programmes:
Bachelor of Business Administration
Bachelor of Business Administration (Banking & Insurance)
Bachelor of Business Administration (Computer-Aided Management)
Top IP Colleges for BBA - Eligibility and Admission process for IPU BBA Admission
The Guru Gobind Singh Indraprastha University has climbed the ladder of fame in a concise period. It has progressed its name as one of the best universities in India.
The university provides a quality of education in diverse courses like law, pharmacy, nursing, engineering, technology, education, medicine, management, etc.
IPU BBA Admission: BBA is an acronym for Bachelor of Business Administration. This course provides knowledge of the management field. Hence, it becomes a priority for the students to select a university that can help them achieve their goals.
GGSIPU creates a perfect environment for the students to excel theoretically and have good practical knowledge.
Now let us learn about the top IP Colleges for BBA; the following is a list of colleges-
Maharaja Surajmal Institute
Maharaja Agrasen Institute of Management Studies
Vivekananda Institute of Professional Studies
New Delhi Institute of Management
Banarsidas Chandiwala Institute of Professional Studies
Let us learn more about the above colleges.
Maharaja Surajmal Institute
It is a GGSIPU affiliated college with a grant from NAAC and is credited with 'A.' It also owns 'A' from the JAC government of NCT of Delhi.
Times BBA Education Ranking Survey 2020 ranked MSI as the number one college for its highest placements.
Following is a list of courses offered by the institute-
BBA General
BBA Banking and Insurance
BBA Honors
MSI designs the course in such a way that helps students improving their skills like communication, Data analysis, knowledge of business management, different ways of presenting a topic, etc.
Institute also keeps in mind students' comfort. It thus provides numerous facilities like a library filled with books of every domain, computer labs equipped with LCD projectors, grounds for students to enjoy various sports-related activities, separate hostels for girls and boys.
Students must take up relevant internships and complete a training period during the course tenure.
Students were placed in various companies, and some remarkable placements are from companies like USHA International, ZS Associates, Wipro, Publicis Media, Amazon, IHS Markit, Planet Spark, D.E. Shaw, EduTrainer, etc.
All the above-enlisted qualities of the institute make it a perfect place for studying BBA.
2.Maharaja Agrasen Institute of Management Studies
MAIMS provides quality education in the field of management studies. Institute not only offers management courses but also courses in the field of journalism, law, commerce, and economics.
Management courses provided by the institute are as follows-
BBA General
BBA LLB
BBA Banking and Insurance
MAIMS is run managed by the Maharaja Agrasen Technical Education Society, which is run by some experienced industrialists, business people, and benefactors.
Institute offers various facilities like library, canteen, hostel, sports ground, well-equipped computer labs, all in one 9-acre campus.
The institute also encourages students to develop their personality by being a member of the institute's clubs. Sports club, economics club, cultural club, ethics and CSR club, Brand Pitching and Event Management club, Commerce club, Fashion Society, Enactus, Entrepreneurship Cell, Environment Sustainability club, Finance club, Moot Court, NSS, NCC, Dance club, Graphics club are the clubs of the institute.
Top recruiters of the college are Jaro Education, Leverage Edu, IBM, Deloitte, Wipro, Concentrix, etc.
3.Vivekananda Institute of Professional Studies
VIPS is a GGSIPU affiliated college, providing courses in management studies, Economics, English, Technology, Journalism and Mass Communication, and Legal Studies.
VIPS aims to provide quality education to its students. The college provides a Bachelor of Business Administration (BBA) course.
VIPS focuses on helping the students develop their skills by providing them with various training programs such as Digital Marketing, Data Sciences, Data Analytics, Financial Modelling, Resume Writing and Group Discussion and Personal Interview Training, etc.
Students can also benefit from different seminars and conferences, industrial visits held by the college.
The campus of the VIPS is spread over a total area of 5-acre land. The whole campus is facilitated with a strong Wi-Fi connection, and cloud computing powered 'Learning Management Systems.
Numerous facilities given by the college include labs, libraries with many books, sports facilities, studios, and training centers. Classrooms are well equipped with intelligent monitors and projectors for a great learning experience.
Students are also given chances to participate in various activities and be a part of clubs such as CSR Club, NSS, TEDXVIPS, Gender Champions club, Street play and theatre club, Music and Dance Society, Arts and craft society.
Companies that come to VIPS for placement are Jaro Education, Visiontek Engineers Services, Wise Finserv, Natwest Group, Wipro HR Services, Posterity Consulting, Aditya Birla Group, Oracle Financial Software Ltd. and many more.
4. New Delhi Institute of Management
Affiliated with GGSIPU, New Delhi Institute of Management is one of the most reputed colleges.
NDIM has been rated an A+ institution by the high-powered committees of the State Fee Regulatory Committee, the Guru Gobind Singh Indraprastha University, and the Directorate of Higher Education. With its existing strength of over 1000 students, and an alumni association boasting over 10,000, NDIM has consistently been ranked as the finest B-school under GGSIP University for many years.
Tie-up with over 500 MNCs and international institutions such as McKinsey, Royal Bank of Scotland and Proctor and Gamble.
Highly placed 1200+ strong network of alumni in various Blue Chip Companies like Airtel, Cadbury, Maruti, Nestle, NDTV, ICICI Bank, Naukri.com, HDFC Bank, IDBI, Axis Bank ONGC, Pepsi Foods and LG Electronics.
International Corporate and Study Tours, Guest Lectures, Industry Visits & Soft Skills Development Programmes, Training in German & Spanish languages, Internships and Industry Assignments.
5. Banarsidas Chandiwala Institute of Professional Studies
An institute to confer characteristic knowledge to its students.
Courses offered by the institute are
BBA
MBA
Classrooms are provided with all new technology, a library full of journals, and numerous books, computer labs, a cafeteria, conference halls, auditoriums, and medical facilities packed infrastructure.
Skill enhancing clubs of college are the main attraction of students. These clubs include Social Club, Eco Club, Research Cell, Entrepreneurship Development Cell, Music and cultural society, sports club, etc.
Placement offering companies in BCIPS Paytm, S&P Capital, OYO, Axis Bank, ICICI Bank, IndusInd Bank, Mancer Consulting, Jaro Education, Flipkart, Edumentor, and TCS.
BCIPS intends to make its students good at management studies and in the field of research.
Minimum Eligibility
12th pass (Pass in 12th Class of 10+2 of CBSE or equivalent with a minimum of 50% marks in aggregate* and must also have passed English (core or elective or functional) as a subject.
Admission process
Admissions are done based on marks obtained in the Common Entrance Test ( CET) conducted by IPU University.
Written test / CET Entrance Exam Syllabus
Arithmetic 25%
Reasoning and Analytical Ability 25%
Business and General Awareness 25%
English Langauge 25%
CET Entrance Exam Pattern
Nature of questions:- Objective
Total number of questions:- 150
Total Marks:- 600
Negative marking:- Yes
Duration of exam:- 150 Minutes
Management Quota
Only 10% of seats are filled through the management quota. For more details on the admission process contact:- 9999998022
Watch the below video for more details
For regular Updates, do check
https://www.ipuadmission.com/
https://www.facebook.com/ipuadmissionblog
https://www.instagram.com/ipuadmission/
https://www.youtube.com/ggsipuniversityadmission
Or call @8384086744
Or write to contactgggsipu@gmail.com
YOU MIGHT ALSO LIKE