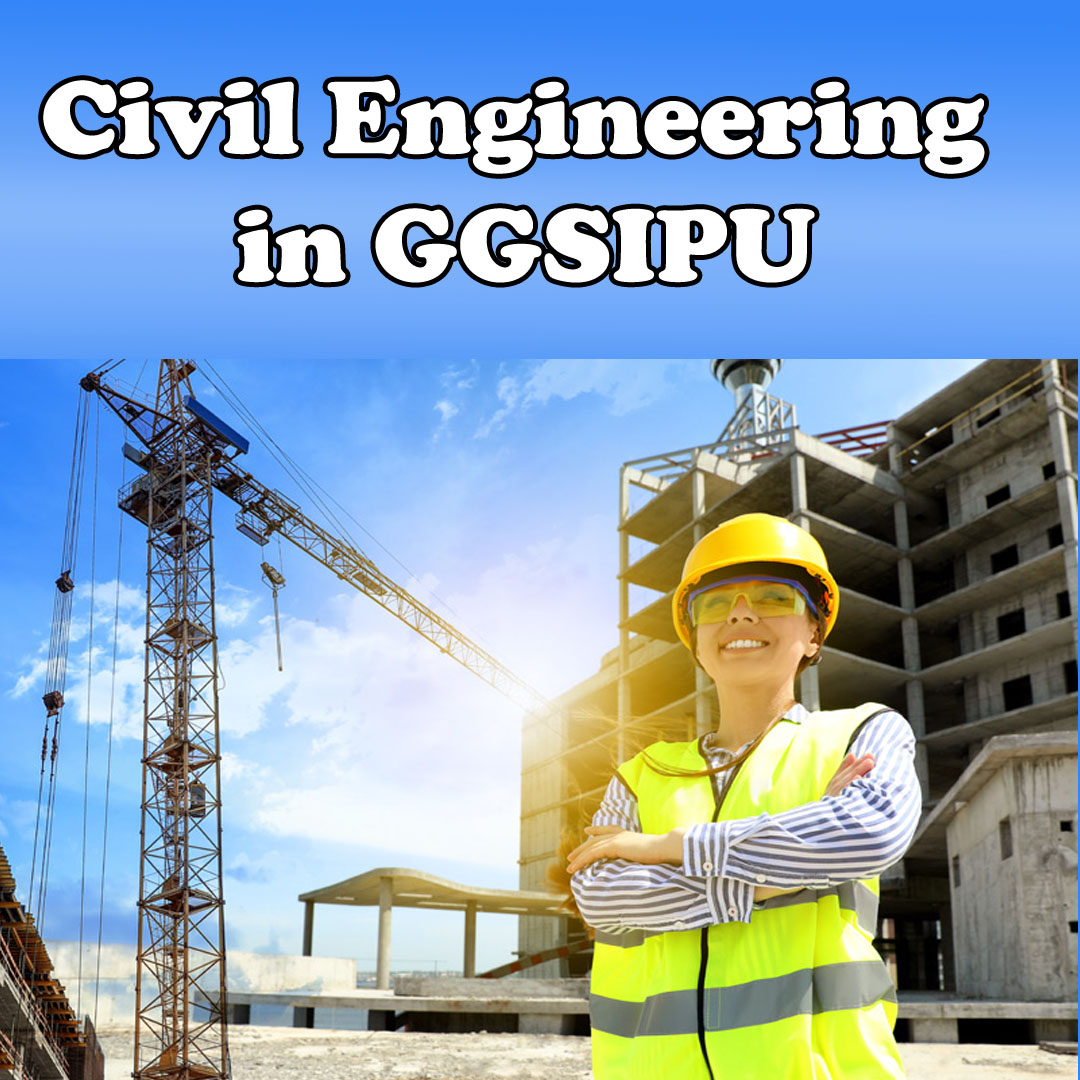 IPU Civil engineering: Civil Engineering is one of the oldest and broadest engineering, it involves Planning, Designing, Constructing, maintaining and supervising the facilities infrastructure like highways, bridges, schools, hospitals, airports, tunnels and other buildings with sewage systems and water treatment plants. In addition the course of civil engineering also include protecting the public, environment as well as improving the current infrastructure. B.Tech. Civil Engineering: It's a 4-year graduation course divided into 8 semesters.
Many colleges in GGSIPU offer Civil Engineering at UG and PG level with leading B.Tech. and M.Tech. degree.
Specializations in Civil Engineering:
Civil Engineering Specializations
Construction Engineering
Coastal and Ocean Engineering
Geotechnical Engineering
Fire protection engineering
Structural Engineering
General Engineering
Bridge Engineering
Irrigation Engineering
Land development
Materials Engineering
Transportation engineering
Urban Engineering
Hydraulic Engineering
Water resources Engineering
Environmental Engineering
IPU Civil Engineering Eligibility Criteria:
Eligibility:
Students should have passed the 10+2 examination from a recognized central or state board.
Subject- Physics, Chemistry, and math are compulsory subjects.
The admission process is done through the result of the entrance exam JEE mains
Curriculum for Civil Engineering in GGSIPU Colleges:
In India, the Civil Engineering course educational plan may contrast across schools, foundations and Universities. Be that as it may, the essentials of the program continue as before.
As indicated by AICTE, "A scope of credits from 150 to 160 would be needed for an understudy to be qualified to get Under Graduate certificate in Engineering. An understudy will be qualified to get Under Graduate Certificate with Honours or extra Minor Engineering in the event that he/she finishes an extra 20 credits. These could be obtained through MOOCs".
Here's an overview of the topics you would likely study in a Civil Engineering programme across eight semesters. Please note that the syllabus and structure may vary from college to college.
Semester 1

Semester 2

Mathematics I

Mathematics II

Chemistry

Physics

English for Communication

Programming and Data Structure

Basic Electronics

Basic Electronics

Mechanics

Engineering Drawing and Graphics

Engineering Drawing and Graphics

Electrical Technology

Electrical Technology

Introduction to Manufacturing Processes

Introduction to Manufacturing Processes

Semester 3

Semester 4

Water and Waste Water Engineering

Transportation Engineering

Hydraulics

Structural Analysis

Solid Mechanics

Water Resources Engineering

Breadth I

Surveying I

Mathematics III (Module 1)

Surveying II

Semester 5

Semester 6

Design of RC Structures

Design of Steel Structures

Soil Mechanics & Foundation Engineering

Elective II

Elective I

Elective III

Breadth (IT)

Elective IV

Breadth II

Elective V

Project I

Semester 7

Semester 8

Elective VI

Breadth III

IT & CAD Applications

Breadth

Elective

Project III

Project II

Comprehensive Viva Voce

Industrial Training/Seminar
Type of Job profile and recruitments in Civil:
Civil Engineers mostly get recruited by construction firms, defense forces Development Boards and many other sites, infrastructures and building projects.
Here are some of the job profiles that a civil engineer can opt after graduation:
| | | |
| --- | --- | --- |
| Job Profile | Job Description | Average Annual Salary |
| Structural Engineers | They design and plan infrastructure projects like Buildings, bridges etc. | 4-5 Lakhs for freshers |
| Geotechnical Engineers | Create projects and find solution to the issues in the geology sector. | 3-4 lakh for freshers |
| Site Engineers | Management of the site | 2.5-3 lakh for freshers |
| Construction Engineer | To plan, direct and control a construction project. | 3.5-4 lakh for freshers |
| Lecturer/Professor | Teach about civil engineering | 3.5-4 lakh for freshers |
Some of the companies that hire civil engineering graduates are:
| | |
| --- | --- |
| L&T | Maytas Infra Ltd |
| TATA Consulting Engineers Ltd | Land Transport Authority etc |
| Schlumberger | Jacobs Engineering |
| Power Grid Corporation of India Ltd | Shapoorji Pallonji |
| Jacobs Engineering | Jones Lang LaSalle |
Skills required for Civil engineering:
Leadership Skills
Negotiating Skills
Attention to Detail
Good Time Management
Problem Solving Skills
Ability to Visualize
Team Player
Passion for Learning
List of top colleges in GGSIPU for civil engineering
https://ipuadmission.com/btech/ce-(civil-engineering)-
For more details on the admission process contact:- 9999998022
For regular Updates, do check
https://www.ipuadmission.com/
https://www.facebook.com/ipuadmissionblog
https://www.instagram.com/ipuadmission/
https://www.youtube.com/ggsipuniversityadmission
Or call @8384086744
Or write to contactggsipu@gmail.com