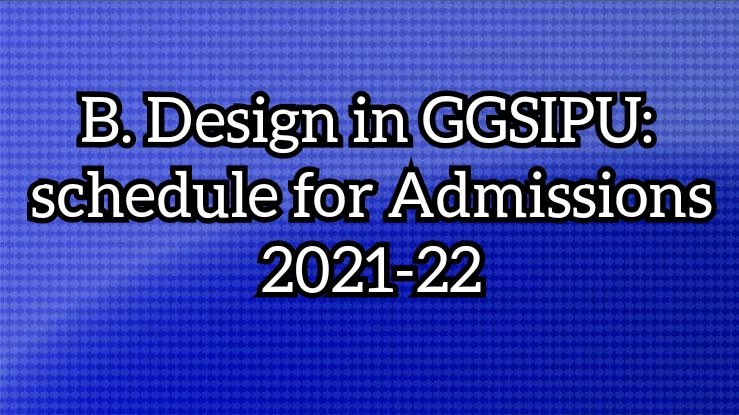 B. Design in GGSIPU: schedule for Admissions 2021-22
The Indraprastha University has declared the dates for registration and counseling for B. Design Course, for the academic year 2021-22. The registration will begin from 16/12/2021, from 05.00 pm onwards.
Name of the course and course code

B. Design – code 600

Name of the University

Guru Gobind Singh Indraprastha University, New Delhi

Eligibility

10+2 in any stream , under any recognized education board
UCEED / JEE Part II / NATA Score/ NID DAT / NIFT Exam / FDDI AIST or any other national exams
CET 2021
Tentative schedule
Registration for admission process (online)

16/12/2021 (05.00 pm) onwards

26/12/2021 (11.50 pm)

CET 2021 test

29/12/2021

CET result

30/12/2021

Document verification (offline)

31/12/2021





10.00 am

Publishing merit list

11.00 am

Seat allocation

02.00 pm
Important points for candidates
The vacancy of seats will be declared during the counseling time only. Allotment will be held only for the seats being vacant. It will be stopped once all the seats get filled.
In the first counseling no seats will be changed from reservation to open. The seats will be interchanged among SC and ST, if there is a vacancy. But, it will be switched to general, only after the complete rounds counseling for the reserved seats.
There will be no reservation for OBC in postgraduate courses. They will get considered as unreserved category, on which merit based allocation will be made.
Refer admission brochure 2021-22; chapter 5 seat allocation- part A -- for understanding reservation conditions for Delhi quota and Outside Delhi reservation.
Refer admission brochure 2021-22; chapter 6 reservation- part A – for more details on seat reservation for various categories.
Follow COVID 19 guidelines issued by Government, during the time of reporting in schoos/college
Refer admission brochure 2021-22 part C chapter 12, to know about application withdrawal and refunding of fees
Mandatory documents
Admission verification form (according to part E – appendix 4A)
Secondary school certificate, along with score sheet
Score card of qualifying examination
Medical certificate (from authorized medical practitioner)
Certificates to prove date of birth
Passport size photographs – minimum four, same as in admit card
Certificate to prove reservation claim
Character certificate (from head of institution where qualifying course completed)
Payment receipt
Payment options
The fees can be paid as Demand Draft or NEFT
Total fees = 2, 06,000/- (two lakh six thousand rupees)
NEFT payment format:
Student Name
GGSIPU Application Number
Name of the programme
College / school allotted
Depositing amount required
Amount deposited
UTR No.
Date of Deposit
Demand Draft details
| | |
| --- | --- |
| Name of Account Holder | Registrar, Guru Gobind Singh Indraprastha University |
| Branch name and address | GGSIPU, Sector 16C, Dwarka, New Delhi 110078 |
| Account Number | 965433641 |
| Name of Bank | Indian Bank |
| IFSC Code | IDIB000G082 |
| MICR Code | 110019071 |
| Type of Account | Savings Branch (SB) |
| Branch Code / CBS Code | 02029 |
Second round of Counseling
Candidates, who got admission are not allowed to participate in second round (for change of category)
Merit based allotment will be done in this round.
Candidates who failed to participate in first round are permitted for this round.
Failing to report on time will lead to get out of the process. Also, late reporting may get admission only if no admission was received earlier.
If the reserved seats are vacant after second round, it will be automatically added to unreserved category, once the second round gets completed.
If seats for Delhi category get unfilled, it will be added for outside Delhi category (also vice versa). Along with that it will be considered as general one, if it remain unfilled, even after the counseling process (known as open house counseling)
Candidates can participate in open house counseling, if they have withdrawn application after first round.

For regular Updates, do check
https://www.ipuadmission.com/
https://www.facebook.com/ipuadmissionblog
https://www.instagram.com/ipuadmission/
https://www.youtube.com/ggsipuniversityadmission
Or call @8384086744
Or write to contactggsipu@gmail.com