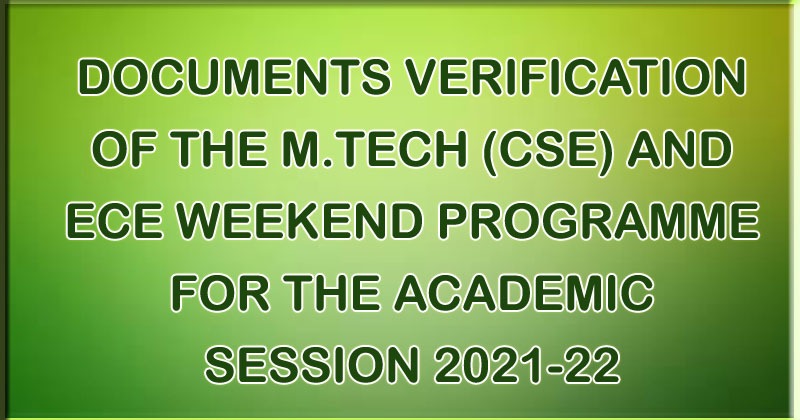 Those candidates who have applied for the admission in the M.Tech (cse) and ece weekend programme test code 182 and 183 respectively are requested to visit for the documents verification process at the following centre according to their respective schedule.
VENUE: University School Of Information, Communication And Technology
Room No. EFC – 315, E Block,
Guru Gobind Singh Indraprastha University,
Sector 16-C , Dwarka, New Delhi -110078
Schedule of M. TECH (CSE) programme
s.no

Date and day

Time slot

S.No From

S. No To

1

20/09/2021

(Monday)

10:00 a.m to 11:30 a.m

1

15

12 noon to 1:30 p.m

16

30

2:00 p.m to 3:30 p.m

31

45

2

21/09/2021

(Tuesday)

10:00 a.m to 11:30 a.m

46

60

12 noon to 1:30 p.m

61

70
Schedule of M. TECH (ECE) programme
s.no

Date and day

Time slot

S.No From

S. No To

1

21/09/2021

(Tuesday)

2:00 p.m to 3:30 p.m

1

19
After verification of the documents ,list of the candidates who have passed will be shown on website of the university.
Students can check the eligibility criteria for the admissions in M-Tech (cse and ece) on the page no. 39 in admission brochure 2021-22.
Following are the documents which candidate should submit at the above venue ( copy+original)
Certificate / mark sheet of 10th / date of birth proof
Mark sheet and certificate of the qualifying exam issued byuniversity.
Certificate/ percentage proof
SC/ST/OBC/EWS / PHYSICALLY HANDICAPPED/ DEFENCE CATEGORY CERTIFICATE , on the basis of which candidate have to take admission in the reserve class. ( copy+original)
The certificate should be from the respective category only, in which candidate has applied , let's say in DSC category candidate have applied so SC certificate issued by NCT of Delhi will work.
Character certificate is required from the head of the institute of qualifying exam the only condition is that should not be more than 6 months old.
Try to fill all the appendixes of GGSIPU'S Brochure
Filled appendix-1 (Defence category)
Filled appendix-2 (PH Category)
Filled appendix-5 (undertaking of awaited result)
Filled appendix-6 (medical fitness)
Terms and conditions
If certificates or any other document is in any other language apart from English and hindi then candidate have to get it translate from the officials only , otherwise candidate will be held responsible for the cancellation of the admission.
If candidate has done previous education from any other country then certificate from university equivalence committee is required.
If any married woman is applying in reserved category than caste certificate will work in the name of herself.
All the certificates will be checked at the time of counseling if candidate is claiming to get admission in reserved category issued from the authorized body.
For the merit list kindly check the official website of GGSIPU