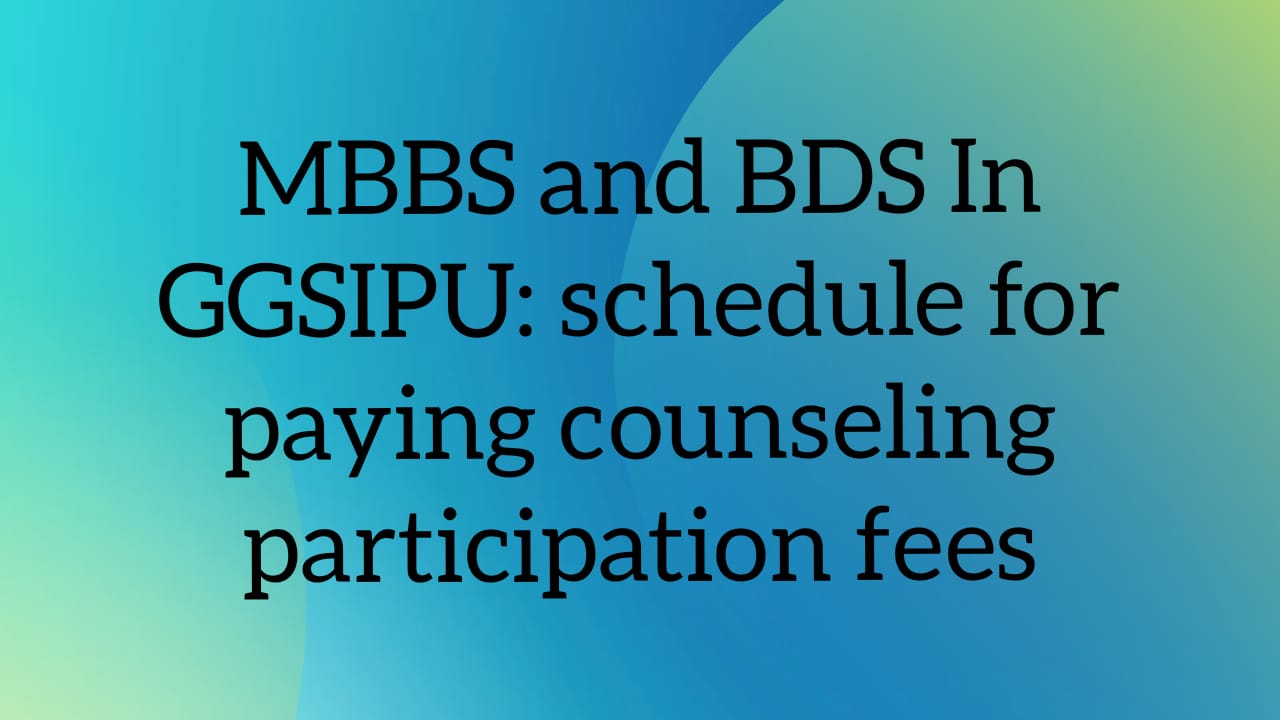 MBBS and BDS In GGSIPU: schedule for paying counseling participation fees
The GGSIPU has now declared the schedule for submitting participation fee for counseling. Along with that the documents verification process is also scheduled now. The notification states that the fees payment will start from 07/12/2021 (02.00pm). NEET UG 2021 rank in All India level is the criteria, on which admissions are made in the University.
Programs on which the process is scheduled:
Code 103 – MBBS (through NEET UG 2021)
Code 153 – BAMS (through NEET UG 2021)
Code 154 – BHMS (through NEET UG 2021)
Code 115 – B. Sc (H) Nursing (only for female, unmarried candidates; through NEET UG 2021)
Tentative dates schedule
Starting time

Closing time

Payment of Non- refundable fee

(after registration, 1200/- rupees should be paid)

07/12/2021 (02.00 pm)

14/12/2021 (11.50 pm)

Submission of documents to claim reservation, if not done before

08/12/2021 (02.00 pm)

16/12/2021 (11.50 pm)

Cross checking of documents (for reserved category of seats)

08/12/2021 (02.00 pm)

16/12/2021 (11.50 pm)
Courses and available institutions
Course name (code)

Colleges/ institutions

MBBS (103)

North DMC Medical College & Hindu Rao Hospital (85% state quota of seats)
Dr. Baba Saheb Ambedkar Medical College and Hospital (85%seats for state quota)
Army College OF Medical Science ( 100% reservation seats for-ex-service person, widows of army and widows of war, ex-service person children)

BAMS (153)

Ch. Brahm Prakash Ayurved Charak Sansthan (85% seats for state quota)

BHMS (154)

Dr. B. R. Sur Homeopathic Medical College and Hospital Research (85% state quota seats)

B. Sc. (H) Nursing (115)

Lakshmi Bai Batra Colleg of Nursing
St. Stephen's College of Nursing (Christian Minority college)
School of Nursing, Hindu Rao Hospital
College of Nursing, Kasturba Hospital
B. Sc Nursing admission will be conducted by Dte. GHS, through Common Counseling for admissions 2021 for colleges including – College of Nursing, VMMC & Safdarjung Hospital; and College of Nursing, ABVIMS & Dr. RML Hospital. This will also be based upon the score in NEET UG 2021.
Documents to be submitted for admission in reservation categories
Certificates of passing required exams under any institution in Delhi region.
Community Certifcate (in the name of candidate itself is mandoatory)
Certificates to validate regional reservation
Caste certificate (for SC/ ST/ OBC in Delhi, issued by concerned authorities) – castes that do not some under Delhi region Category will be considered only for All India Region Category
OBC Non- creamy layer certificate (issued after 31st March, 2021; validity 1 year)
Certificates to validate reservation of EWS (issued after 31st March, 2021; validity 1 year)
Documents required as subject specific:
MBBS,

BAMS,

BHMS

Nativity certificate (Indians/ Overseas Indian/ Citizen of Nepal)

Foreign Nationals and Non- Resident Indian are ineligible

Medical certificate

Age proof (17 years before 31st December of first year course is mandatory)

Awaiting results for any papers in the exam will not get considered during the admission process

B. Sc. (H) Nursing

Eligibility specified under admission brochure 2021-22 is mandatory
Important notes to the candidates:
Ensure the eligibility of each course before registration and fee payment.
Provide all details correctly; check all documents and details clearly before submission. There may be no options for making modifications.
Apply early, to avoid issues. Try to find more time to avoid last minute mess and network problems while completing the requirements.
Check for correct marking of regional claims. Marking wrong regions of schooling will throw you out from claiming reservation based on regions. Also, look for marking region as same as in the certificates.
Go thoroughly through admission brochure. The terms and regulations in the brochure may have modifications, based on guidelines of statutory body, when there is urgence for it.
Registration process:
New registration – Enter required details and go for generating new application number. (Registration is permitted for only one time, for each candidate.)
Sign in
Filling details in the form
Documents submission
Verifying all details and documents before submission
Payment of registration fee
Verifying communication details (email id and phone number)
Taking printout of the form – it will be better to keep two or three copies of the application form.
Payment of fees
Total fee to be paid

2200/- rupees, non-refundable

( Application fee – 1200/-

Counseling participation fee – 1000/-)

Website

Available methods for pament

NET Banking

Credit Card

Debit Card
Payment of participation fee would not provide admission. It will provide you chance for participating in the counseling only. Also, make sure that your payment is success. If not, pay the fee once again, there itself. Early submission of fee is better, to avoid last minute rush and technical failures.
For more information visit the official websites of the University,

For regular Updates, do check
https://www.ipuadmission.com/
https://www.facebook.com/ipuadmissionblog
https://www.instagram.com/ipuadmission/
https://www.youtube.com/ggsipuniversityadmission
Or call @8384086744
Or write to contactggsipu@gmail.com