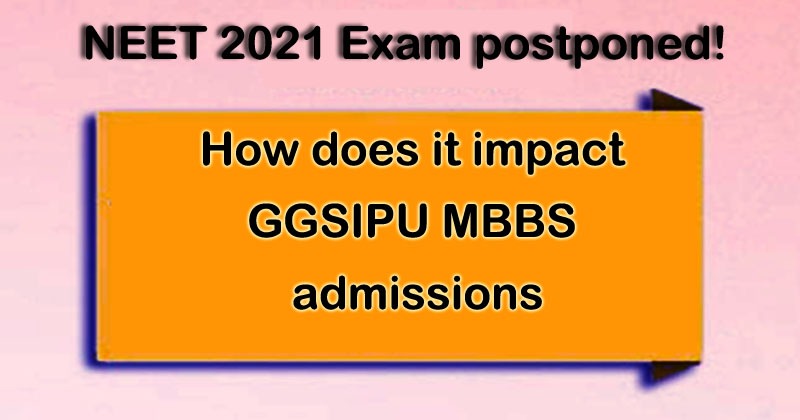 NEET 2021 Exam postponed! How does it impact GGSIPU MBBS admissions
The candidates /aspirants will be able to register for the medical entrance exam, The NEET-UG 2021 is to be scheduled on September 12. The honorable Education Minister Dharmendra Pradhan had announced that the new examination dates has been issued for the MBBS/BDS entrance exam. The National Testing Agency (NTA) has commenced the registration process for NEET-UG 2021. The exam will be held on September 12. NEET aspirants can register for the exam at ntaneet.nic.in from 5 pm on July 13. The NTA has been activated successfully for the registration link. Thr registration link will be available on ntaneet.nic.in. There is an inconvenience to open the website as it is down due to heavy online traffic.
The number of test cities are increased from 155 to 198. This year, the number of cities who take examination are increased. Test centres will ensure social distancing amid Covid. . The number of examination centres will also be increased. There were a total of 3862 centres in 2020.
Candidates need original and soft copies of the documents to successfully apply for the exam. The list includes the left-hand thumb impression, class 12 mark sheet,ID proof (such as Aadhaar Card, pen card etc ), candidate's photograph, class 10 mark sheet, class 12 passing certificate, signature, and class 10 passing certificate.
Candidates must ensure that mobile numbers, e-mail ID filled in the online application form are their own or their parents only. The NTA will communicate by SMS and/or e-mail on given mobile number and email ID only.
Details of document needed are below:
post card size photograph (4"x6") (size: 50 kb - 300 kb)
Candidates need to upload scanned images of latest passport size photograph (size: 10 kb to 200 kb)
left hand thumb impression (file size: 10 kb-50 kb) in JPG/JPEG format
candidate's signature (file size: 4kb - 30kb)
(In case of any eventuality of left thumb being unavailable, right-hand thumb impression may be used.), Class 10 passing certificate (size: 100 kb to 400 kb) in JPG/JPEG format.
NEET aspirants can register for the exam at ntaneet.nic.in on July 13 from 5 p.m.
This year in the month of April, it was announced that the examination of NEET be held on August 1. But due due to the coronavirus situation, the exam was postponed across the country.
The NEET-UG 2020 was successfully conducted on September 13 with precautions and social distancing, in view of the COVID-19 pandemic. Similarly this year the exam of NEET will be conducted with proper precautions. More than 14.66 lakh candidates appeared in the examination of NEET out of which 7,71,500 were able to qualify.
Impact on GGSIPU MBBS Admissions
NEET is the only exam for MBBS/ BDS seats in GGSIPU colleges. Delay in exam means the admission cycle would also be delayed. It seems that we may see exact same dates as year 2020 for admissions process of MBBS seats in GGSIPU.
For regular Updates, do check
https://www.facebook.com/ipuadmissionblog
https://www.instagram.com/ipuadmission/
https://www.youtube.com/ggsipuniversityadmission
Or call @8384086744
Or write to contactggsipu@gmail.com