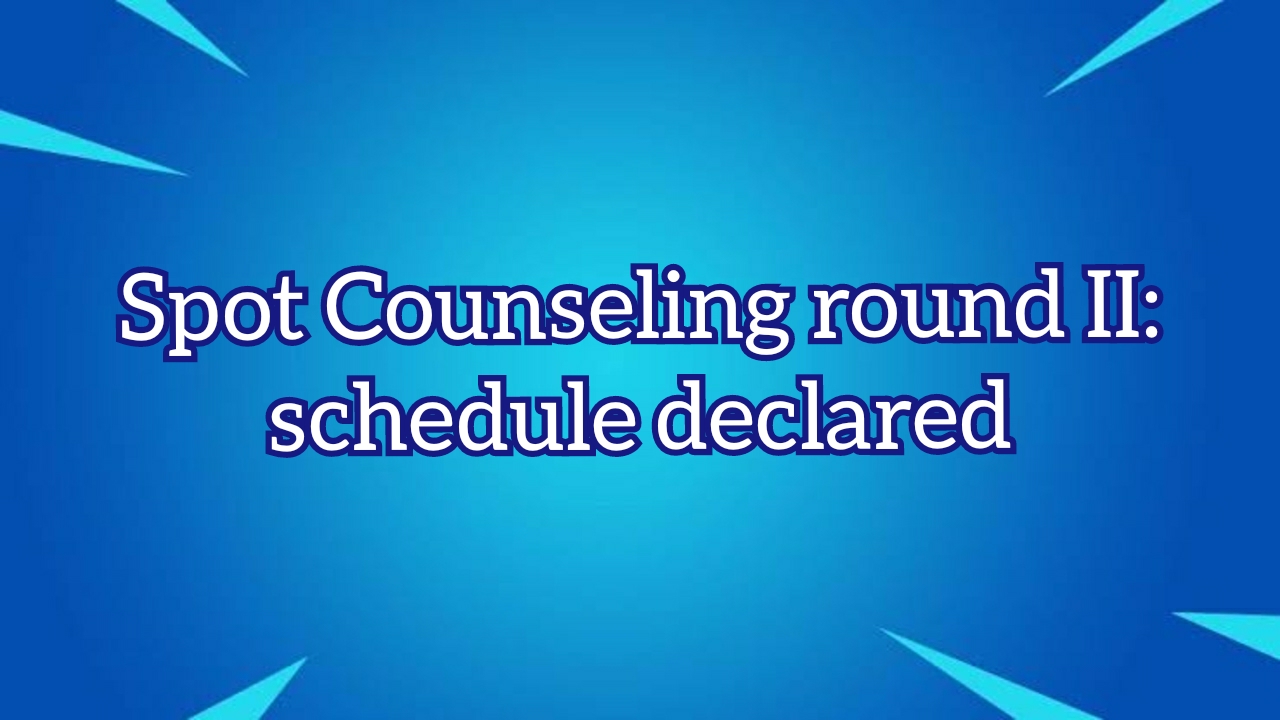 The Guru Gobind Singh Indraprastha University has declared the schedule for second round of online Spot counseling, for the remaining seats in the academic year 2021-22. The registration process will begin from 15/12/2021, for the candidates who had cleared CET. The course for which the counseling round is planned includes:
MBA (IT) – 116
BHMCT – 127
B.Ed. – 122
BBA – 125
BCOM(H) – 146
BCA – 114
BA (JMC) – 126
All the candidates, who have successfully completed all the procedures of first spot round, can participate in this session. Candidates who have not completed the previous rounds successfully will be considered as ineligible for participation.
Tentative schedule of second round spot counseling
Starting time

Closing time

Declaration of seat availability

15/12/2021

registration for counseling

15 /12/2021 (02.00 pm)

17/12/2021 (11.50 pm)

Filling of preferences

18/12/221 (11.00 am)

19/12/2021 (11.50 pm)

Declaration of results

20/12/2021

Fee payment

After declaring results

22/12/2021 (11.50 pm)

Printing admission offer letter

After results

22/12/2021 (11.50)

Withdrawal after payment

After results

24/12/2021 (11.50 pm)

Reporting in the institution

23/12/2021 (11.00 am)

24/12/2021 (05.00 pm)
The second spot round will be considered as fresh round, so preferences given for previous rounds will not be considered in this. Candidates, who have received admission in previous round, need not to withdraw their seat, before getting allotted in second round. They will be retained in the previous seats itself. But, they must choose the latest seat, if they got allotted in round II.
The candidates have to pay 40000/- rupees as academic fee, once after getting allotted in the counseling. The candidates who have paid in earlier rounds are not required for repayment. Their previous payment will be adjusted to complete the process in this round. But, they will need to pay 5000/- rupees in the new college, as a part of seat upgrading. Also, the payment will be adjusted for candidates who have paid, but not completed further process in the previous rounds, or even for who withdrawn after payment.
After the payment, the candidate must report in the allotted institution, within the specified time. Failing to report within time will throw you out of the process. Also, ensure to submit all the necessary documents during the reporting time.
Other important notes for candidates:
Take the print of provisional admission slip after completing payment successfully.
Ensure to report in the specified college/institution within the time itself.
Refer admission brochure 2021-22, chapter 3 – clause 3.5, if you are waiting for results
Keep original copy of all documents. Also, it will be good if you keep one or two photocopies of the same.
Ensure you are eligible for applying, based on the given criteria.
Submit the necessary proofs, if you claim for certain relaxations on the process.
Ensure the validity of all certificates, before submitting
Follow regulations of Government on COVID 19, during the reporting time
Required documents
Mark sheet and certificate

Scorecard of 10th standard and 12th standard

Allotment letter

Download from website after declaration of result and payment

Medical certificate

Character certificate

Issued by school/institution studies previously

Reservation category certificate

For claiming reservation in seats (mandatory for reserved category seats)

Proof to claim Defence category reservation

Refer appendix-1 in admission brochure for more details

Certificates proving region

Needed mainly for open schooling/NIOS candidates

Study center proof is enough for claiming Delhi regional seats
Other conditions for round II spot counseling
Fresh entry candidates

Pay 40000/- Rs. As academic fee, once you get allotted for a seat based on your preference

Upgrade of seats

Pay additional fees of Rs. 5000/-, after getting allotted in round II, based on your choice
Previous fees will be refunded immediately. If not, contact University authorities.
After new seat allotted, there will be no claim over the previous seat. You must take admission for the new seat

Registered, but not allotted in previous rounds

Pay 40000/- Rs., if allotted for a seat of preference

Allotted previously, but not paid the fee

Registered, allotted seat and not reported(or withdrawn from the process)
For more details visit official website of the university

For regular Updates, do check
https://www.ipuadmission.com/
https://www.facebook.com/ipuadmissionblog
https://www.instagram.com/ipuadmission/
https://www.youtube.com/ggsipuniversityadmission
Or call @8384086744
Or write to contactggsipu@gmail.com