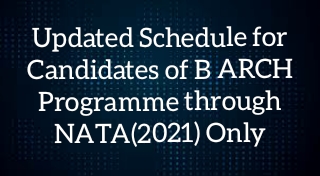 FOR ACADEMIC SESSION 2021-22
Notification for all the respective candidates to whom seat in the college, USAP, university has been shared and some part payment is left from their end, but due to the off on the chhat pooja university has bought new schedule for the respective candidates regarding fee submission and other details, kindly check below.
After sliding round's result

Activity by the candidate

Starting date

Closing date

Candidates have to report at their respective institutes

11.11.2021

(11.00 A.M to 5.00 P.M)

15.11.2021

(10.00 A.M to 5.00 P.M)
As 10.11.2021, 13.11.2021, 14.11.2021 are holiday so no one is allowed to present physically on these dates.
All the candidates are requested to follow all the covid norms according to the government protocols.
All the candidates are requested to regularly visit the official websites of the university for all the latest updates.
For regular Updates, do check
https://www.ipuadmission.com/
https://www.facebook.com/ipuadmissionblog
https://www.instagram.com/ipuadmission/
https://www.youtube.com/ggsipuniversityadmission
Or call @8384086744
Or write to contactggsipu@gmail.com