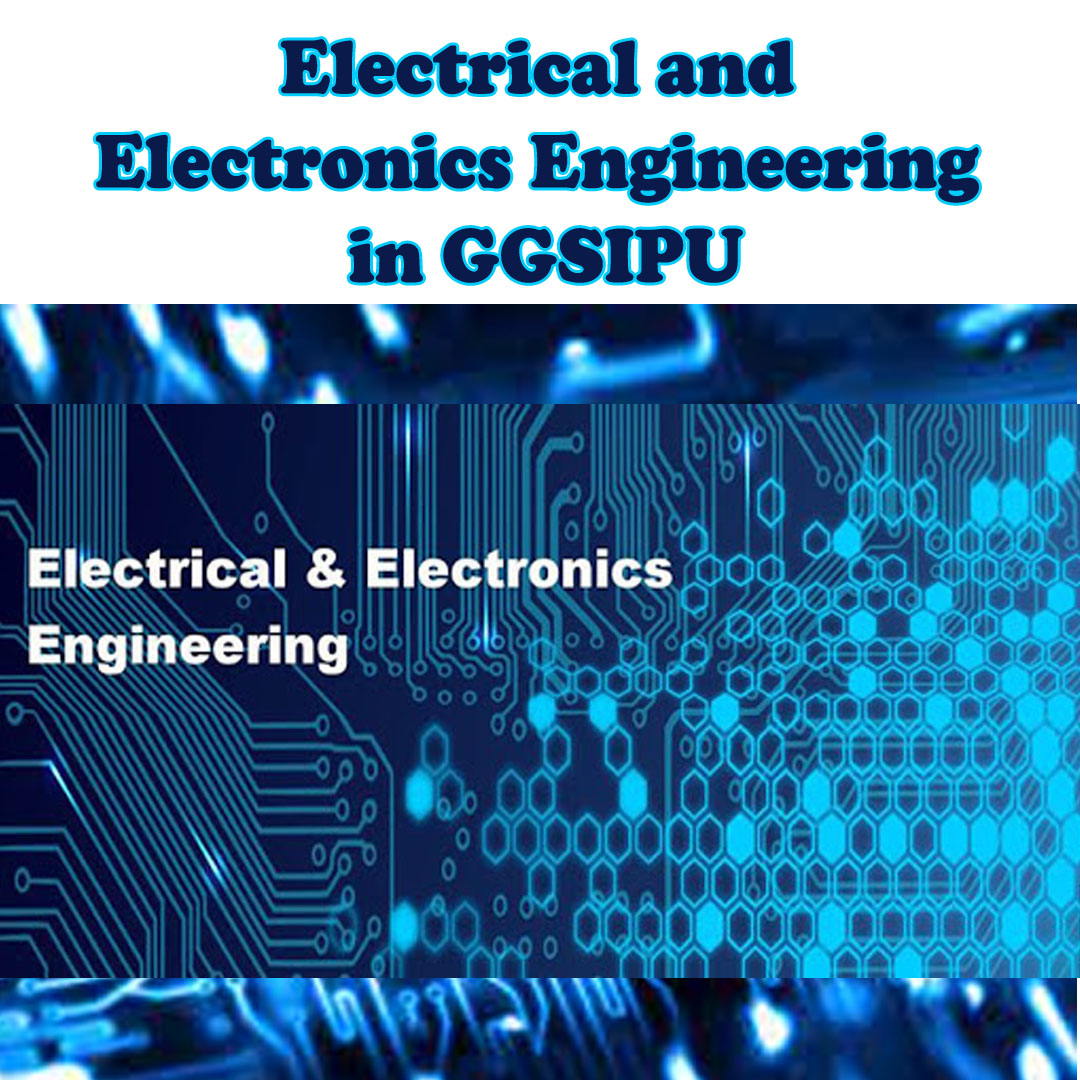 IPU B.Tech in Electrical and Electronics Engineering: B. Tech EEE is a course that stands for Electric and Electronics Engineering it is a 4-year course for graduation in IPU that deals with the study of electromagnetism, electricity, and their various domain such as transport, machinery, appliances, etc. After the graduation the students can go for further education or can pursue research work or find jobs in government and private firms.
B. Tech Course Details:
| | |
| --- | --- |
| Degree | Bachelors |
| Full Form | Bachelor of Technology in Electrical and Electronics Engineering |
| Duration | 4 Years. |
| Age | No age limit |
| Minimum % | 50% - 60% in 10+2 with Physics, Chemistry, and Mathematics as compulsory subjects |
| Average Fees Incurred | INR 1 LPA in GGSIPU |
| Average Salary Offered | INR 3.8 LPA [Source: PayScale] |
| Employment Roles | Electrical Engineer, Software Engineer, Senior Software Engineer, Senior Electrical Engineer, Systems Engineer, Software Developer, Electrical Design Engineer, Project Engineer, Test Engineer etc. |
| University | IPU |
About the course:
People who are interested in the field of electronics and electricals should pursue this course. This program deals with subjects like digital Circuits, integrated circuits, electromagnetic field theory, etc. According to the American Heritage Dictionary of the English Language B. Tech EEE means, "The branch of engineering that deals with the technology of electricity, especially the design and application of circuitry and equipment for power generation and distribution, machine control, and communications.".
This subject help students to get the knowledge and skills required to specialized in these topics in the electrical and electronics engineer.
Students can find job opportunities in the areas such as railways, IT, Telecommunications, army, automobile and many more industry.
Essential tools and technologies used by electrical and electronic engineers:
Voltmeter
Socket Set
Current Probes
MATLAB
Arduino
PartSim Simulator
AutoCAD
Atmel Studio
Eligibility Criteria for IPU B.Tech in Electrical and Electronics Engineering:
The aspirant should have passed 10+2 with Physics, Chemistry, and Mathematics as compulsory subjects.
The admission process for B. Tech EEE in GGSIPU
The entrance in B. Tech EEE is based on the examination result of class 12th and the score gained in the common entrance for B. Tech programs JEE.
After the entrance exam results are out the university announces their cut-off list and the students can file for the admission process.
How to Apply?
In this situation of the pandemic, the admission is going online so the students are required to go to the university website and fill in the necessary details like name, contact no., course name, etc. apart from it when the situation is alright one can register themselves offline by visiting the college in person, filling out the application form submitting the necessary documentation.
Selection process:
Once the application is accepted the university will decide what they want to do next for the admission of an individual it can be a group discussion or an interview.
Top B. Tech EEE colleges in GGSIPU
https://ipuadmission.com/btech/eee-(electrical-and-electronics-engineering)-
Syllabus for B. Tech EEE:
The course has a credit-based system and students have the option to choose the subjects they want. The syllabus includes common engineering subjects, core electrical and electronic subjects, practical and projects. Lists of subjects based on B.Tech EEE:
Digital Signal Processing
Analog and Digital Integrated Circuits
Measurement and Instrumentation
Digital Electronics
Microprocessor and Microcontroller
Power Systems
Why choose B. Tech in EEE?
Students who are curious about the electrical appliances and their working are most likely to choose this course for their education in electronics. B. Tech EEE is a course that is structured to understand the fundamental of engineering first and then they further cover the core electrical and electronics engineering subjects.
What does an electrical and electronics engineer do?
Here are some of the roles that an electrical engineer in general:
Product Development: Electrical engineers have to come up with new ideas to use electricity.
Supervise Projects: the main job is coordination to the project manager to ensure the project details and cost.
Direct: The electrical engineers control the manufacturing and testing of electrical appliances.
Complaint Investigation: Attending customer grievances and recommending solutions is another crucial function played by electrical engineers.
Below mentioned are some functions of electronics engineers:
System evaluation
Product Designing
Inspect Equipment/Systems.
Develop Testing Procedures
Perks of being an EEE as a career:
Salary: the starting salary in India is INR 3.8 LPA and as the experience will grow the salary can go up to 10 LPA.
Job Growth: This field is growing and higher job roles are available throughout their career like- program manager, product management director, I.T. team leader, and deputy general manager.
Demand for EEE: due to the advancement of the technology the demand is also rising for engineers. They can find jobs in I.T. companies, research laboratories, financial institutes, etc.
Tips for preparation:
Plan in Advance:
Get Familiar with the Syllabus
Build up Fundamentals
Scope for higher education:
Students can go for further education after graduation in India as well as abroad they can study:
M.E in Industrial Drive and Control
M. Tech in Electrical and Electronics Engineering
M. Tech in Applied Electronics
M. Tech in Electrical Energy Systems
M. Tech in Power Apparatus and Control
There is also a short-term certified course for C-DAC, automation, programming language, solar panels, power systems and robotics. Plus, students who are interested in business can go for MBA as well.
Career opportunities after B. Tech in EEE:
Both private and government colleges offer jobs in electronic engineering. The below-listed fields are some of the options students can aim for job opportunities:
Automobile Industry
Medical Industry
Machinery Industry
Aeronautics Industry
Software Industry
Telecommunication Industry
B.Tech EEE students can go to government sector in the following company:
Bharat Heavy Electricals Limited (BHEL)
Reserve Bank of India (RBI)
Kudremukh Iron Ore Company Limited (KIOCL)
Hospital Services Consultancy Corporation India Limited (HSCC)
Electronics Corporation of India Limited (ECIL)
Indian Railway Service, and many more.
Skills Required for being the Best Electrical and Electronics Engineer
The electrical and electronics field is crucial to many industries to ensure smooth operation. Electrical and electronics engineers' job requires the following skills to be able to deliver the best service:
Circuit Designing Skill
Numerical Skill
Programming Skill
Critical Thinking Skill
Troubleshooting Skill
Organizational Skill
Analytical Skill
Communication Skill
For more details on the admission process contact:- 9999998022
Pls check the video below:
For regular Updates, do check
https://www.ipuadmission.com/
https://www.facebook.com/ipuadmissionblog
https://www.instagram.com/ipuadmission/
https://www.youtube.com/ggsipuniversityadmission
Or call @8384086744
Or write to contactggsipu@gmail.com