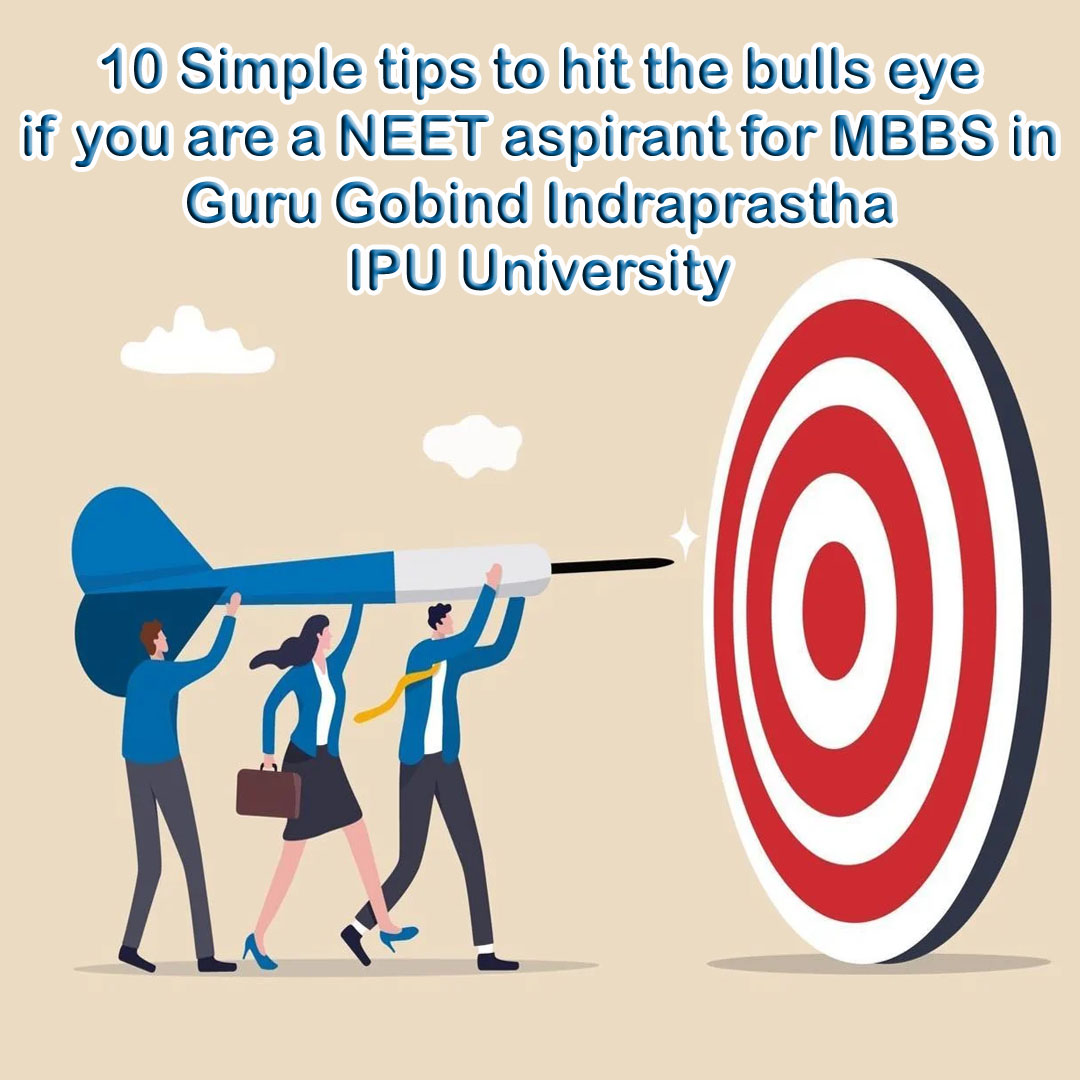 IPU MBBS Admission: NEET exam is the only entrance exam to be taken by students who are looking for MBBS seats in GGSIPU affiliated medical colleges.
10 Simple tips to hit the bulls eye if you are a NEET aspirant IPU MBBS Admission:
So here's an article to help the NEET aspirants to prepare themselves for the upcoming NEET exams.
It's obvious that we can't just mug up all the course in a couple of days. So for the betterment of the student, we brought up the article to help those who were not able to plan or manage their studying time or the content for the exam to study.
Students aspiring for a future in the field of medicine, the National Eligibility cum Entrance Test, or NEET exam is the first step towards it. Recognized as one of the most coveted entrance tests for UG admissions in prestigious medical colleges, the exam has been scheduled for 1st August this year.
The syllabus of NEET is theory-heavy and requires smart preparation strategies. While the current situation might make you nervous and lose focus, aspirants should utilize the next 3 months effectively to prepare, structure, and plan for this entrance gateway with ease.
FOLLOWING ARE THE SOME POINTS TO CLEAR YOUR NEET EXAM IN ONE GO:-
1. Know the syllabus:- The most important thing that any aspirant must know is the latest official NEET syllabus. Comprehensive knowledge about the syllabus, exam pattern and weightage will help to plan and divide time efficiently, especially the concepts that need more attention.
2. Time management:-When preparing for a competitive exam, time is of the essence. A proper schedule, setting timelines, and streamlining the syllabus is a more systematic approach. Be thorough in the planning and divide time amongst the subjects.
Give more time to the subjects in which you need more practice. Be sure to have a detailed plan in place and make it a point to follow this regime with discipline since it is vital in achieving the ultimate goal.
3. Keep practicing:-
Practicing with mock tests will give you clarity of concepts and questions. It will also provide an understanding of how well you can manage your time during the exam. Moreover, you can analyze and gauge your weak areas and then work on them accordingly.
You can refer to the plethora of previous years and sample papers available online. Furthermore, preparing with online test preparation like BYJU'S NEET Classes will also help you revise the concepts every week for all the topics.
4. Prepare notes:-
One of the best-proven ways to study is by making notes. Knowledge tends to retain for a longer period in our minds when we write while studying.
Writing short and crisp notes increases memory power and it becomes relatively easy to recall the study material during the exam.
Also, including flow charts and diagrams in the notes would come in handy and help during the revision process.
5. Refer to good study material:-
One of the most important components for any entrance exam is good to study material. While preparing, remember to refer to some good NEET preparation books.
You can also refer to multiple study sources online. In today's day and age, knowledge is easily accessible to us and we must make the most of what is available.
6. Be mindful of the paper pattern and marking scheme:-
It is vital that before attempting the exam you understand the flow of questions and the paper pattern. You should be aware of the weightage each topic carries. With a clear understanding of the weightage, you can devise a plan, attempt the questions accordingly by allocating time flawlessly. It is advisable to first attempt the questions you are confident about and then move towards the other questions.
7. Always remember, health is wealth:-
As the number of Covid-19 cases is increasing every day, staying safe and healthy is imperative. Maintain a healthy lifestyle, eat fibre and protein-rich diet, drink enough water, and ensure that you. Your management of time is really important so that you can give equal and sufficient time to your studies and as well as to your other curricular activities too.
8. Be positive and stay focused to achieve your goal:-
Study material is not the only thing which helps in clearing exam one should watch motivational videos and read books and try to improve their brain's capacity for pressure handling and focus get proper sleep. This will help you stay healthy and keep your mind active, in turn keeping you positive and focused for the exams.
9. Manage your time well between studies and other activities:-
It is very important to distribute your time effectively. You shouldn't exert yourself beyond limits. And you shouldn't take excessive breaks from study. Both situations cab be harmful.
10. Clear all your doubts as soon as possible:-
Many concepts of NCERT or any other books would be difficult to understand. You may have doubts about such concepts. Ask the help of your teacher to clear your doubts.
CONCLUSION:-
As the NEET exam is important because it is the only medical entrance exam conducted in India. This includes admission to MBBS courses in all GGSIPU government medical institutes
For more info, watch the video below
For regular Updates, do check
https://www.ipuadmission.com/
https://www.facebook.com/ipuadmissionblog
https://www.instagram.com/ipuadmission/
https://www.youtube.com/ggsipuniversityadmission
Or call @8384086744
Or write to contactggsipu@gmail.com